All kinds of labels and ribbons
Whether you need a label for washing instructions, a personal message, branding, contact information, or simply to put your name in a garment, Four Season Garment is your source for clothing, garment, textile, and name labels. You will find both woven and printed labels. Both are durable and wash-proof, and can be customized with your name, contact & business information, even your logo.
Printed labels are made on a variety of materials including, satin polyester, coated polyester, iron-on, nylon, and twill weave. You can compare all our available label materials here.
Woven labels come in levels of customization, starting with basic woven name labels, then woven designer labels which offer more choices, and culminating with custom woven labels, which are fully customizable.
Don't forget to check out our large inventory of stock size and care/content labels.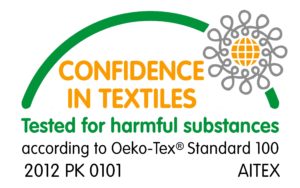 OEKO-TEX Standard 100
Why Choose Four Season Garment
Choosing the Right Label for your Needs